Hello and welcome to the future! I hope you're enjoying your hover-boards and self-tying trainer laces! Remember kids, hover-boards don't work over water.
A few people have asked me if I have any New Year's resolutions, and I realized that the thing about "resolutions" is that you can't say "resolutions" without sounding a bit sloshed.
Try it for yourself right now. Resolutions, resolutions, resolutions. See?
I really only have one goal that I'm not already working on, and that's to try to be healthy - properly. And so OH and I are going to have a go at sobriety. Pfft! As OH is also in training for his first half-ironman, I think we need to go a bit beyond January, but we're inspired by the likes of the Hairy Dieters and Tom Kerridge who've basically just cut out the booze and done a bit more moving to get amazing results: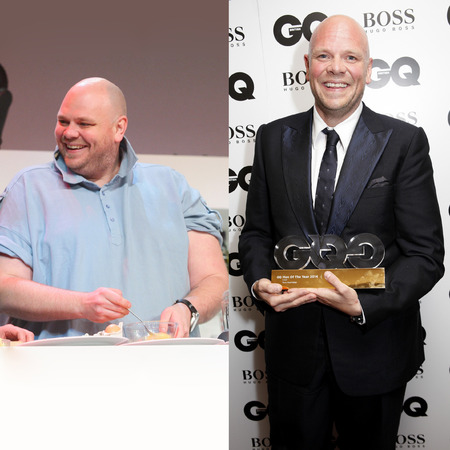 Ah... so one picture is long and the other is short. I see...
We kicked off the New Year with an intrepid six-mile hike round the Northamptonshire countryside. A good way to break in OH's new walking shoes.
En route, we saw a woodpecker. Can you spot it in the trees?
Our walk took us through the boggy fields of the nature reserve, and around the picturesque village of
Boughton
. We saw a flock of partridge scatter as we passed. Our destination was the ruins of 12th century Boughton village's original St John the Baptist Church - the beautiful Gothic architecture is slowly being taken over by nature. Here, OH's attention is taken by the sudden hoot of an owl.
An unlikely member of The Cure, yesterday.
The church was in use until sometime towards the end of the 15th/early 16th century, and sketches drawn in the 1700s show the tower was still standing then, though the walls were down. There is a field nearby which was the old village green, where evidence of an abandoned medieval village has been found around it. Strangely, the churchyard itself is still in use as consecrated ground and there are recent graves dotted among the Victorian stones there. The green itself was where the annual fair was held until 1916 - the biggest in the country, locals claim. Wouldn't it be great if they held one for the 100 year anniversary?
We also spied one of the Boughton Hall follies - the famous
obelisk
, now surrounded by a housing estate. We didn't spy any of the famous black squirrels, though. Another time, maybe?
In more Christmas leftover news, I found something to do with leftover mincemeat and 3 dark brown bananas from the much-neglected fruit-bowl.
Mmm, I think Paul Hollywood would see through the icing sugar disguise!


Banana and Mincemeat Tea Bread
200g self-raising flour
1/4 level teaspoon bicarbonate of soda
1/2 level teaspoon salt
75g butter (unsalted)
100g sugar
2 eggs, beaten
3 ripe bananas, mashed
a handful of almond flakes (optional - or use any chopped nuts)
80g mincemeat (this was 1/4 jar that we had left)
25g sultanas (add a few more if you like)
This was a bit of guesswork, but I knew that you can adjust the sugar in a traditional tea bread by adding other sweet things. It happened to turn out pretty well like this.
Preheat the oven to 175 degrees Celsius: It's a slow baker, so you will also need to protect the bread from over-browning by making sure the shelf level is appropriate before you start. I didn't and ended up swearing a lot, not realizing OH was on the phone to his mum.
In one bowl, sieve together the flour, salt and bicarb. In another cream together the butter and sugar until pale and fluffy, then mix in the eggs, little by little. Add the mashed banana and mincemeat, mix well, then gradually stir in the dry ingredients and the extra sultanas and nuts.
Pour the mix into a greased, lined 1lb loaf tin. In hindsight I would add a paper cover to prevent over-browning from the very start as this will take 1 and a quarter/half hours to cook through (knife comes out clean).
Mind fingers and remove from the tin to allow to cool on a wire rack.
Make a brew!